Tip 1 – Stay Safe!
Salesforce, like many other large businesses and organisations, have issued a statement and an updated policy regarding travel and events. The outcome already has led to the Sydney World Tour becoming a virtual event, and the postponement of the London World Tour (which was planned for May). Speculation is rife about TrailheaDX and even Dreamforce. But lets prioritise our health, and use it as a great excuse to save the travel budget, reduce the carbon footprint, and see more of our friends and family at home!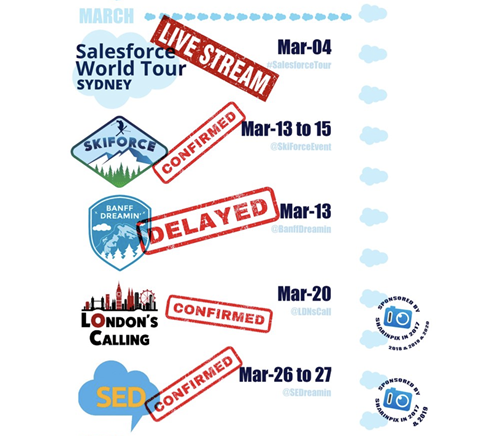 Tip 2 – Other events?
Salesforce have cancelled all non-essential travel for their own employees, but how about the rest of us? So far London's Calling is planning on running as expected this month, although with some speakers unable to travel. But like many organisers and venues, they are keeping an eye on official WHO advice.
Thanks to SharinPix for the updated infographic!